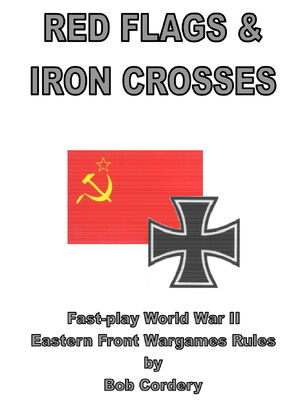 Red Flags and Iron Crosses
Edit
These rules have been developed so that its possible to fight small World War II Ostfront battles between Axis and Soviet forces. The battles last about an hour or two. Designed for hex terrain.
Red Flags and Iron Crosses Tarred and Featherstoned
Edit
A set of World War II rules that combined the 'old school' rules mechanisms used by Donald Featherstone and Lionel Tarr with a hexagonal gridded tabletop.
Designer: Bob Cordery
Link to Rules
Edit
Red Flags and Iron Crosses
Edit
http://wargamingmiscellany.blogspot.co.uk/p/blog-page.html
or
http://www.users.dircon.co.uk/~warden/BlogFreeDownloads/FreeRF&IC.pdf http://www.users.dircon.co.uk/~warden/BlogFreeDownloads/FreeRF&IC-Playsheet.pdf
Red Flags and Iron Crosses Tarred and Featherstoned
Edit
http://wargamingmiscellany.blogspot.co.uk/p/blog-page.html
or http://www.users.dircon.co.uk/~warden/BlogFreeDownloads/FreeRF&IC-T&F.pdf