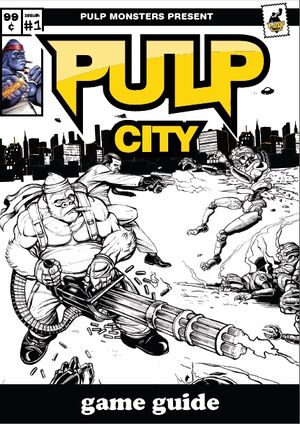 Pulp City is the precious child of our twisted minds. It is born of our love for both miniature games and comic books. It's fast, and it's furious and smart. It's your own The Good, the Bad and the Ugly meets Godzilla.
First, we invite you to play a game that is heroic and character driven. Pulp City does not create a new world. It recreates a storyline with familiar elements of our pulp: TV series, B movies and all-time favorites from comic books!
Take a walk down the crowded Sunset Blvd. Pulp City is as hot and humid as Miami before a storm. Pulp City is as dangerous as New York City before Giuliani. Crave for the sea breeze and the shade of palm trees and pray you don't end up in the middle of a clash between Villains and Heroes.
Designer: Maciej Żylewicz
Link to Rules
Edit
http://gloryandcoin.files.wordpress.com/2008/05/pulp-city-game-guide-print-friendly.pdf
or