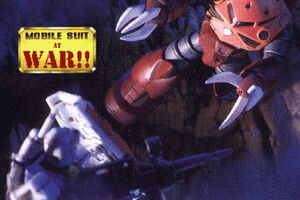 Mobile Suit at WAR!!" (hereafter referred to as MS@W) is a set of quick and easy miniature wargame rules for 2 or more players using Bandai's 'Mobile Suit in Action!!' (MSiA) toys, released here in the US as simply 'Gundam Action Figures'. I have been a fan of Gundam for about 20 years, and a gaming enthusiast for over 15; these rules came about as a way to combine these two interests and also to utilize (and justify) my ever-growing collection of MSiAs.
I have tried to keep it as simple as possible while still maintaining the feel of Gundam. This initial release covers only land-based combat using UC Mobile Suits during the 'One Year War' (my personal favorite), but future supplements will feature 'Gundam Wing' (I'm working on it right now!), advanced rules and rules for space (and possibly aquatic) combat. These rules could be easily modified to utilize the 1/144 scale models (or even the 1/100 scale if you're crazy enough); just increase the distances of everything a little bit.
I prefer the MSiAs because they're cheap (especially the US versions), nicely painted and come with a nice range of accessories... perfect for wargaming; besides, do you really want to paint an entire squad of GMs yourself? Please feel free to e-mail me at kingmob75 "at"hotmail "dot" com with questions, comments, criticism, suggestions, compliments or complaints. Please feel free to put a link to this page on your website, just make sure you give me the proper credit!
Designer: J. Thomas Exum
Link to Rules